& that was how good the rainshower was.
Not to mention fully embarrassed myself on my first invited event.
(Though technically it was Caroline who invited me along :P Photos are stolen from her too! Thank you!)

Hansgrohe is a leading bathroom and sanitation specialist, a pioneer with a product range focusing on showers, taps and bathroom mixers. Hansgrohe also provides customized design services and recently introduced an exclusive range in collaboration with celebrated designers.
Are you all still with me?! hahahahaha!! :D
That was a
reallllyyyy
short history on Hansgrohe. This time around, bloggers were invited to experience the celebrated Hansgrohe
"Raindance Rainmaker"
.
Actually, I squealed a lil in my heart when I first saw the bathroom cause I have tried once such
"atas"
shower in a hotel and I loved it loads! It felt like taking a bath under (in??) a waterfall!
Oh! Also, Hansgrohe uses
AirPower
technology as shown above thus making each water droplet softer and fluffier!
(Okay, that wasn't a good adjective but it does feel that way!)
I could feel the difference once the water touched my skin! O_O Quite shocking really. Plus you can adjust the water power, temperature and the works!
I love the shower plate that was on the side wall as well, that was the best.
*floats*
It gave a really good massage....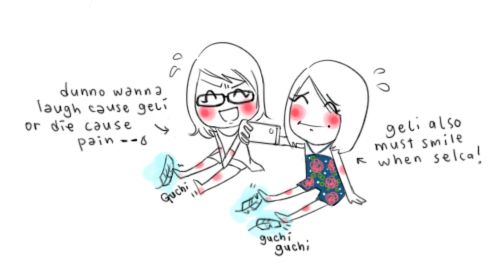 After the relaxing bath, which is if I am filthy rich, I would have ordered one to be installed in my bathroom now! we were pampered with a foot massage (and yummy treats) which was supposed to relax us even further but I think it did otherwise for Caroline and me.*laughs*

I felt esp. geli when he massaged my big toe and he said "That's the brain."
-_- *awkward*weird*how come will geli?!
All of us went home with a goodie bag which had the Raindance Showerhead in it! *shocked*

Comes with 3 functions somemore! Rain air is where AirPower is used! & it's a very obvious change when you switch from normal rain to rain air & vice-versa.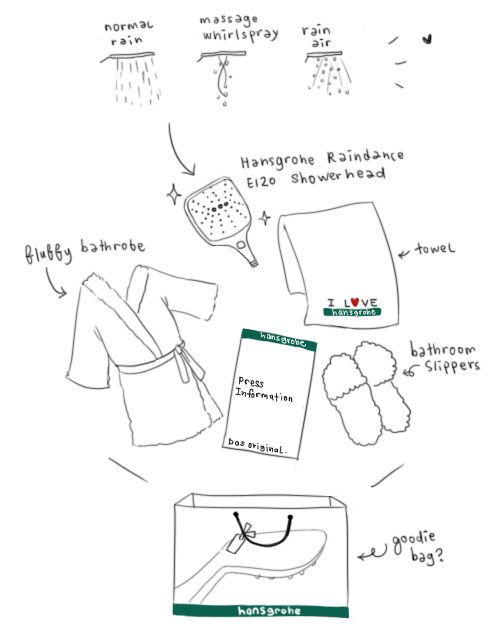 You know, AirPower was invented with a 2 in 1 function. Having fun
(syiok ma)
and with air in the water, you are actually using less water while you shower, so lower water bill too. Unfortunately, it is so much fun and it feels
oh-so-syiok,
erm...I end up spending a much more longer time inside :P
Thus erm...not really saving that much money or water after all huh?
*laughs*
Brother bear loves it so much too that he is actually saving up money to buy a better/bigger one
O_O
Suddenly the bathroom is our favourite place. meh.
And yay! Lookie here! Now everyone can have a feel of the syiok-ness! Just print the voucher below , present it at the Hansgrohe Showroom at Kelana Jaya & enjoy 40% off~
Hansgrohe Showroom
No.2-B-1, Jalan SS6/6,
Kelana Jaya .
Tel No: +603 - 7805 4748 (ext 216)